About Woolyarns
At Woolyarns, we focus on getting the most out of the fibres we source. We produce natural fibre yarns that no-one else can: custom made to inspire great textile manufacturers like you to make market-leading products.
YARN ENGINEERING AT ITS FINEST
In a world of relentless and bland volume, we put our faith in innovation and research and development. We presume you don't want the same as what your competitors settle for. That's what drives us to extract the greatest qualities we can from each of the materials that we use, and to bring what we find to market in yarns that span classic textures through to high-end, man-made luxury.
Click here for information about Woolyarns Taking Responsibility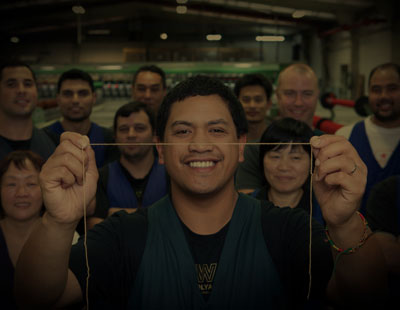 OUR YARNS ARE AVAILABLE AS WOOLYARNS NEW ZEALAND PRODUCTS OR THROUGH OUR PORTFOLIO OF BESPOKE LUXURY YARN BRANDS
We pride ourselves on our extensive and focused knowledge. The knowledge of key staff in manufacturing and quality assurance is directly responsible for Woolyarns' global reputation as a custom yarn provider. We work closely with customers both pre- and post-sale, drawing on our vast machinery and product knowledge and our working knowledge of specialised finishing techniques to ensure you can deliver products that will excite and inspire you. Everything is customised. That's the value we add.